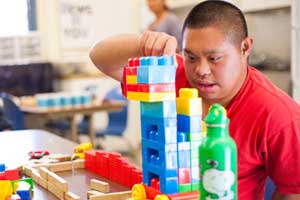 ---
After school programs provide important benefits especially for students with disabilities. Students who attend after school programs on a regular basis tend to get better grades, have better behavior, increased self-esteem and more positive attitudes towards education. For students with special needs, afterschool programs also provide socialization and attention that they might not receive during the school day.
---
SCHOOL AGE AFTER SCHOOL PROGRAM
Year round after school enrichment program for school age children (ages 10-17)
Designed to enhance important social skills that our participants need, the E-SOL after school enrichment program for children provides an atmosphere where kids learn to develop and maintain friendly relationships with their peers. Participants are encouraged to engage in a number of various games and activities in a safe and friendly environment. We offer regular physical fitness exercises with exercise machines especially designed to cater to the needs of our participants. We offer dance & aerobics conducted by a certified instructor. Card games, board games, video games, and watching movies in a theater type atmosphere on a twenty foot screen are just some of the indoor activities we offer. Participants also engage in outdoor play activities such as basketball, handball, walking, running, soccer, water play, swimming, and much more. We have daily arts and crafts activities where participants can make projects from paper-Mache masks for Halloween to watercolors to still life mosaics using recycled materials.
---
YOUNG ADULT AFTER SCHOOL PROGRAM
Year round after school enrichment program for young adults (ages 18-22)
With more mature games and activities for teens, the adult after school program offers interaction and socialization with same age peers in an environment where participants feel comfortable and relaxed. These young adults have fun playing computer games, singing karaoke, playing video games, watching their favorite movies\videos, creating various art and craft projects and surfing the Internet. Our participants also work out with exercise machines, elliptical machines and treadmills. One particular aspect of this program is that participants do role play activities and engage in regular discussions about appropriate behavior and self-advocacy skills in various situations, facilitated by highly qualified and trained staff.